Lending made easy.
Getting a mortgage for your first home, renewing or refinancing your mortgage or consolidating your debt has never been easier.
We're not your typical mortgage company
I offer customized mortgage products and services, in terms you can understand. We've changed mortgages for the better, so you can worry less and live life to the fullest.
Knowledgeable, Fast and Friendly Service
Fast pre-approvals
Speed matters. Which is why I help verify your pre-approval quickly.
Learn More
Total Transparency
"What you see is what you get." No hidden fees, no hidden meanings.
About me
All of us together now
I offer products and services designed to put my clients first. Always.
Get in Touch
Download My Mortgage Planner App
My Mortgage Planner App gets you access to a wide variety of premium tools to help plan your mortgage.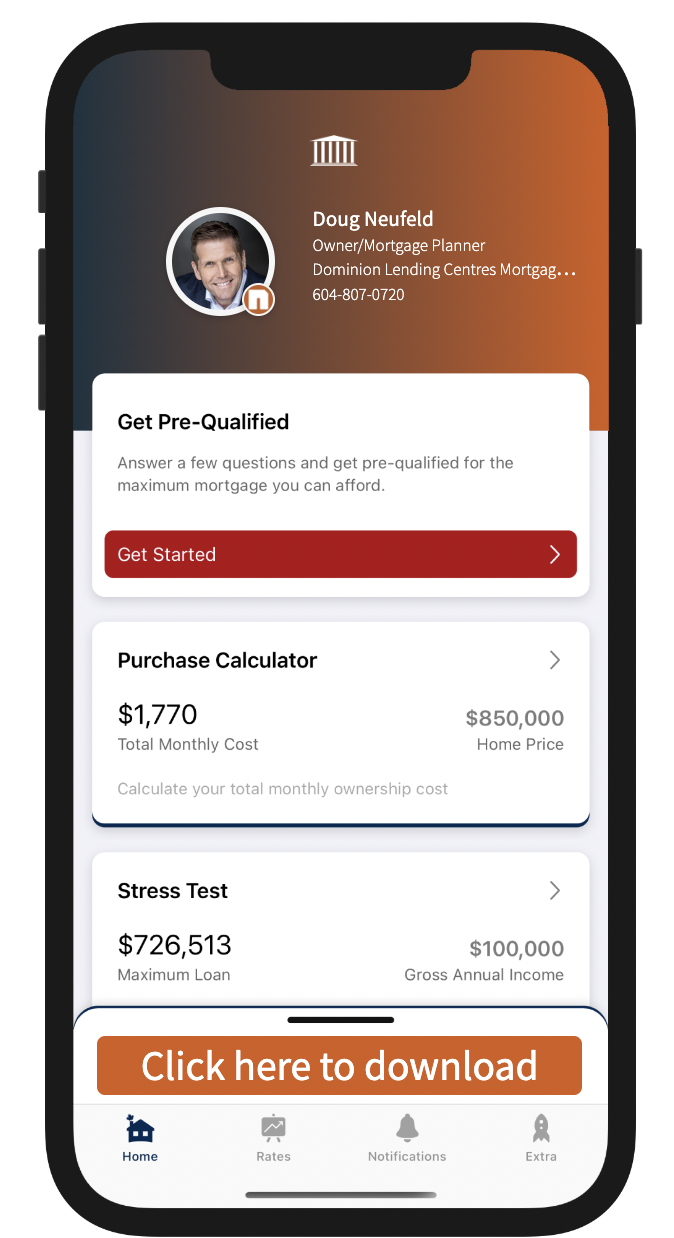 What can you do with my app:
Calculate your total cost of owning a home
Estimate the minimum down payment you need
Calculate Land transfer taxes and the available rebates
Calculate the maximum loan you can borrow
Stress test your mortgage
Estimate your Closing costs
Compare your options side by side
Search for the best mortgage rates
Email Summary reports (PDF)
Use my app in English, French, Spanish, Hindi and Mandarin

Don't wait.
Start saving!
I will find you the best mortgage options... Learn how a broker can help.
Learn More
Awesome service – couldn't have made the deal without Doug!

Greg and Keri Phoenix

Doug Neufeld is a very professional, approachable and knowledgeable Mortgage Specialist. he stays in contact and we appreciate that. We have given his name to others and everyone is pleased with ...

K Tokiwa

I just have to say how impressed I am with Doug Neufeld and his team!!! I have referred him many times and will continue to use his services.

Happy Client

I just wanted to say thank you for all the hard work getting our mortgage together with all the hoops that we had to jump through. I am especially glad I didn't have to deal with a bank! I will...

J Vandermey

I had a great experience using Doug Neufeld. I would definitely use his services again and refer him to my family, friends and co-workers. Thanks!

Happy Client